Rue Montorgueil – A Foodies Paradise
Rue Montorgueil in Paris is a foodie's paradise, a gluttonous array of the best food shopping in Paris, all in one street.
There are boulangeries, patisseries, fromageries, poissonnières, chacuteries, boucheries, chocolatiers, and gourmet food shops of all varieties, not to mention a range of famous restaurants. Old-school artisans provide a snapshot of the pre-supermarket glory days.
Located in the 1ème and 2ème, Rue Montorgueil runs north to south from Les Grands Boulevards to Les Halles.
It is a bustling pedestrian way, one of the better street markets in Paris, where residents and tourists compete for a place in the queues outside many of its famous shops.
Rue Montorgueil has a long association with the food trade. The surrounding area of Les Halles was chosen in 1848 as the site for the central wholesale market of Paris.
While the wholesale arm of Les Halles has long since moved on, Rue Montorgueil has maintained its reputation as a thriving retail market for excellent food.
Formerly called Rue Comtesse d'Artois, the street changed names following the French Revolution. Montorgueil derives from the words Mont Orgueil (Mount Pride), after the hilly area on which the street was developed.
Over the years, the street has provided material for many writers and artists. Claude Monet portrayed this street in La Rue Montorgueil à Paris, which is now part of the Musée d'Orsay collection.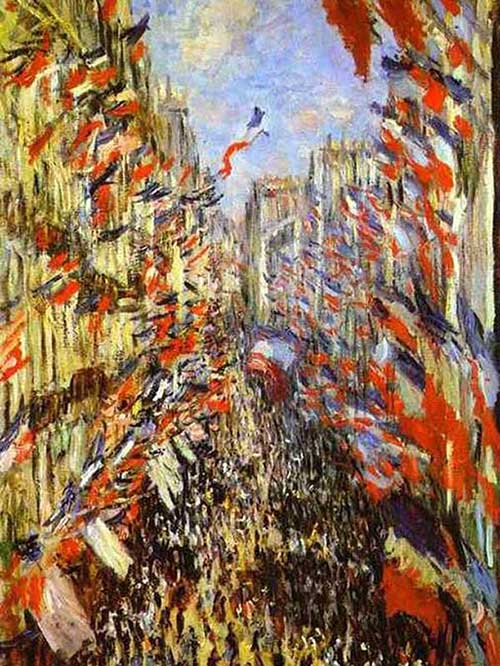 Emile Zola's book, Le Ventre de Paris ('The Belly of Paris'), is set in and around Les Halles. Honoré de Balzac and Alexandre Dumas were frequent visitors to Au Rocher de Canale, and their obsession with food is marked in their writings.
Grimod de la Reynière, the precursor to the modern food critic, wrote ecstatically in 1805 of the oyster vendors of Rue Montorgueil that piled shells as high as the roofs of the houses.
Many of the present-day shops trace their origins back to the early years of the 19th century. The shiny snail perched on top of the entrance to L'Escargot Montorgueil is an iconic image that dates back to 1832.
Au Rocher de Cancale (Cancale is a coastal town in Brittany, famous for its oyster beds) has been serving oysters to generations of Parisians since 1804. This building was classified as a historical monument in 1997.
Pâtisserie Stohrer has been on this street since 1730. Their patisseries stand out as among the best in the classic tradition, including baba au rum and réligieuse à l'ancienne, a mountainous series of cream puffs fashioned to look like a nun.
Recent offerings include Boulangerie Paul, Eric Kayser, Maison Collet, Le Palais du Fruit, and Poissonnerie Soguisa.
People don't use the footpaths on Rue Montorgueil because there is no room. The various eateries have quarantined the real estate for tables and chairs outside their premises. Thankfully, motor vehicles are banned.
But view Montorgueil at 6 am, and the area is like a ghost town, except for street sweepers and a few joggers.
By 7 am, the place is starting to come alive, with most restaurants beginning to serve breakfast.
It is hard work taking in all that is available in Rue Montorgueil. But, if you get tired of carrying all that cheese, bread and cake around, you can always stop at one of the numerous sidewalk cafes, have a coffee and sample some of your delicious goodies while doing a spot of people-watching.
Information
Metro: Les Halles, Étienne Marcel and Sentier
Gallery
Map