Four years have passed since we last visited Lyon and one of our favourite eateries, Brasserie Georges. We were keen to see if La Georges continued to live up to our expectations. We were not disappointed.
Brasserie Georges is an iconic eatery in Lyon, the food capital of France. Established in 1836 by an Alsatian brewer, Brasserie Georges has seen off an Empire, three wars and four republics. It is the oldest brasserie in the city and one of the largest in Europe.
In 2016, La Georges celebrated its 180th anniversary and organised 180 days of festivities to thank its clients for their loyalty and share the great moments in its history.
It has entertained Ernest Hemingway, Jean-Paul Sartre, Auguste Rodin, Emile Zola and Edith Piaf.
The exterior of this massive building is nothing to write home about, but the inside is amazing. It is an enormous open area with high painted ceilings and exquisitely decorated in an Art Deco style.
It can serve 700 diners in its leather-backed banquette seating and boasts 345,000 meals a year, including 44 tonnes of sauerkraut. On December 8, 2012, on the occasion of the Festival of Light, Brasserie Georges set a record of serving 3245 meals.
When full, the atmosphere is intense. Bustling waiters efficiently take orders, serve food, settle the bill and promptly clear the table for the next customer. Their teamwork and professionalism are amazing.
To see a professional waiter practise their art is alone worth the cost of the meal. Try balancing a tray of several meals at shoulder height and walk/run in a straight line! Can you hold 12 wine glasses in one hand?
To work at Brasserie Georges is highly regarded, and vacancies rarely occur. Regardless, inquirers are encouraged to submit their CVs to a waiting list of applicants for future positions.
If you intend a quiet, intimate dinner, Brasserie Georges is not the place. The cacophony of sounds can be deafening. It is a place for people-watching and people-listening. Seeing what and how others eat and listening to their conversations are all part of the stimulating experience of eating in a brasserie.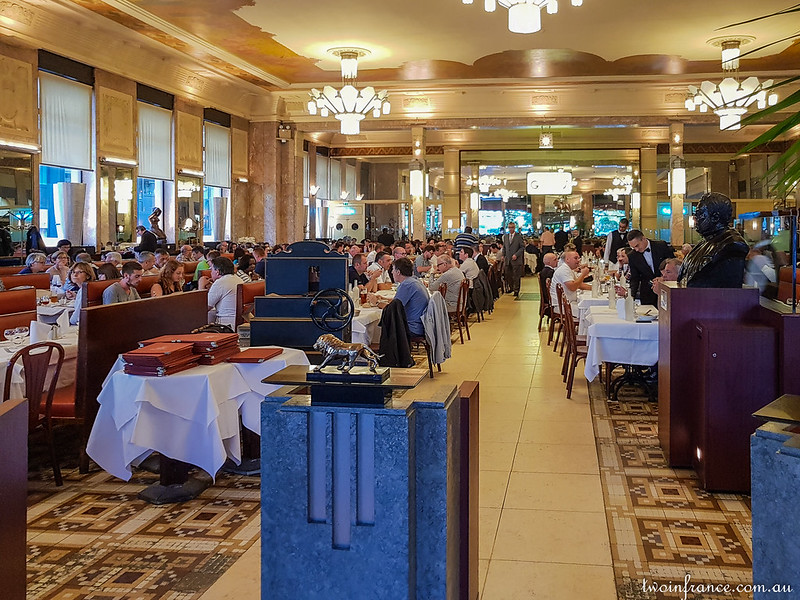 Consistent with its heritage, Brasserie Georges has continued brewing its beer, along with other Alsace inspired dishes such as sauerkraut. It even holds the world records for the biggest sauerkraut, and largest Baked Alaska ever served.
The food is traditional Lyonnaise, a mixture of French and German, particularly hearty and plenty of it. The specialities of chicken liver terrine, calf's head, pistachio sausage, calf's liver may not be for everyone, but the locals leave nothing on their plates. Watch them consume huge plates of sauerkraut adorned with smoked belly and loin of pork, pork knuckle, smoked and Strasbourg sausages.
The beer is worth trying, just for the experience. I tried my first Steak Tartare here, raw minced beef prepared at the table; exquisite! It is considered a compliment to the chef to order this dish. Marrowbone is another one of our favourites. If you celebrate a special occasion, the Brasserie will provide a cake with sparklers accompanying a tune on its trademark barrel organ.
After four years, the menu has hardly changed, and I suspect that our favourites will still be available in another four years. When on a good thing, stick to it. It is the consistency of service and quality that bring the regulars back.

We have now visited Brasserie Georges three times over a period of four years.
On the first occasion, we had just arrived in Lyon after a two-hour TGV trip from Paris. After settling into our hotel in La Part Dieu, we decided to seek out this great establishment for lunch. Being a Sunday and with little knowledge of local transport, we decided to walk, our only source of direction being a hotel street map.
After an hours walk, we eventually arrived, around 2.00 pm. Needless to say, we caught a taxi back to the hotel after our meal. Our relief in finally reaching our destination was somewhat dampened by the realisation that today was Mothers Day. The place was awash with family groups, and the associated noise was intense.

Luckily, some diners had finished early, and we were able to get a table immediately. The Special Mother's Day menu served us well. The service was quick and professional, and we left satisfied with wallet €91.00 lighter. That included two entrées, two mains, two sweets, two coffees and a bottle of wine.
On the second occasion, we had done our homework. Lyon has an efficient transport system. Information bureaus are scattered throughout the city and provide comprehensive metro, tram and bus maps. Google also offers an interactive transport map, similar to Paris. A T1 tram from Gare Part-Dieu to Gare de Lyon-Perrache dropped us next door to Brasserie Georges.

This time, we arrived early, just before midday, and surprisingly we were the first. Possibly, the pouring rain had delayed some patrons. Also, surprisingly, A supervisor led us to the same table we had three days before, Table 110.2. However, by 12.30 pm, the brasserie was full. We walked away from Brasserie Georges with less €73.10 in our wallet but were impressed and satisfied.
On our most recent visit, we arrived at 7.00 pm, without reservation, after travelling on the T2 tram from Grande Blanche. The place was virtually empty, but it was beginning to fill by the time we left at 8.40 pm. If you want to eat late during peak periods, you would be wise to make a reservation.
Apart from the new plate design, much was the same as our first visit, including the bill. Surprisingly, the meal cost, €92.75, was similar to that of four years ago.
We have tried many famous brasseries in France, and this is by far the best. We left satisfied and confident that we would return to Brasserie Georges when next in Lyon.
Brasseries Georges
  30 Cours de Verdun 69002 LYON Perrache
Tel : +33 (0)4 72 56 54 54 Fax : +33 (0)4 78 42 51 6
11.30 am to 11.00 pm (Weekdays); 11.30 am to 12.15 am (Saturday, Sunday, Public Holidays)
Metro A or T1, T2 tram to Perrache
Gallery